Ahh, sorry to say this, but using this wheel with the missing tooth decoder is not a good move! At best you'll get +/- 3 degrees of error in your timing if the event happens to be scheduled from the oddly spaced edge.
one of the two odd spaced edges
. The pattern is actually ...1, 1.5, 2.5, 1... whereas your decoder is expecting ...1, 1, 3, 1... hence the two 0.5 spacing error, standard spacing = 6 degrees, and half that is 3. The only reason it's working at all is that you must have loosened the tolerances right off. Oops.
This is almost certainly contributing to your sync loss issues in the other thread which I'll cross reference soon, here:
viewtopic.php?f=56&t=2641
I'm sorry I didn't notice your comment "Unfortunately the wheel looks more like a 57-1,5+1,5 trigger wheel." Nor did I see/recognise/realise what this photo meant: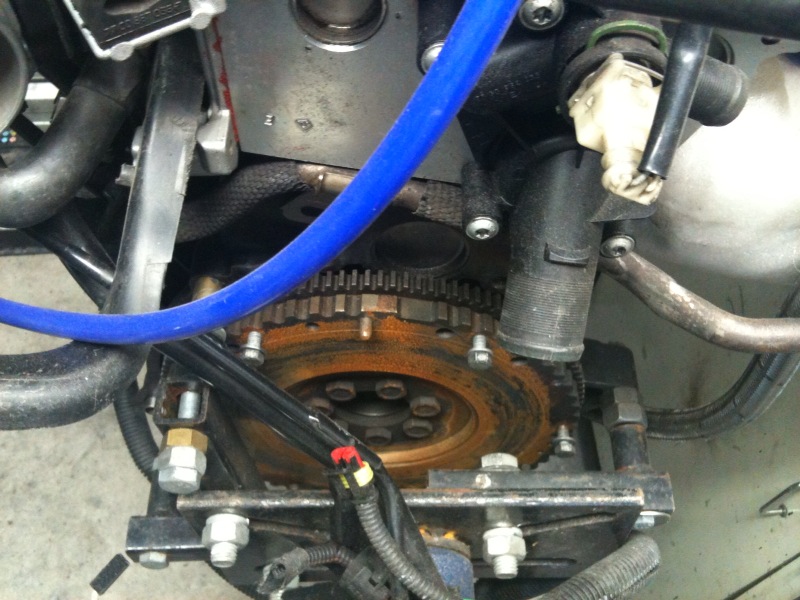 And now I see another comment "It is a kinda 57 +1,5 tooth -1,5 gap .. something like this .." wish I'd seen/noticed these earlier!
Sorry.
_________________
DIYEFI.org
- where Open Source means Open Source, and Free means Freedom
FreeEMS.org
- the open source engine management system
FreeEMS dev diary
and
its comments thread
and
my turbo truck!
n00bs
, do
NOT
PM or email tech questions! Use the forum!
The ever growing list of FreeEMS success stories!