Owner:Daniel
Make:Toyota/Lexus
Model:N/A
Engine:1UZ-FE Quad Cam 32V 90deg V8
Capacity:3986cc
Power Adders:N/A
Hardware:Homebake TA discombobulation
Description:1UZ-FE "on a stick"
Under strict instructions from mein fuhrer I present to you:
One Toyota or Lexus V8 of designation 1UZ-FE
engine is running the original twin dizzy setup with 4 batches of two injectors fired in a semi sequential format.
the engine position sensor's have been augmented to exclude the two cam sensors and to remove one tooth from the 12 tooth crank wheel.
the ECU: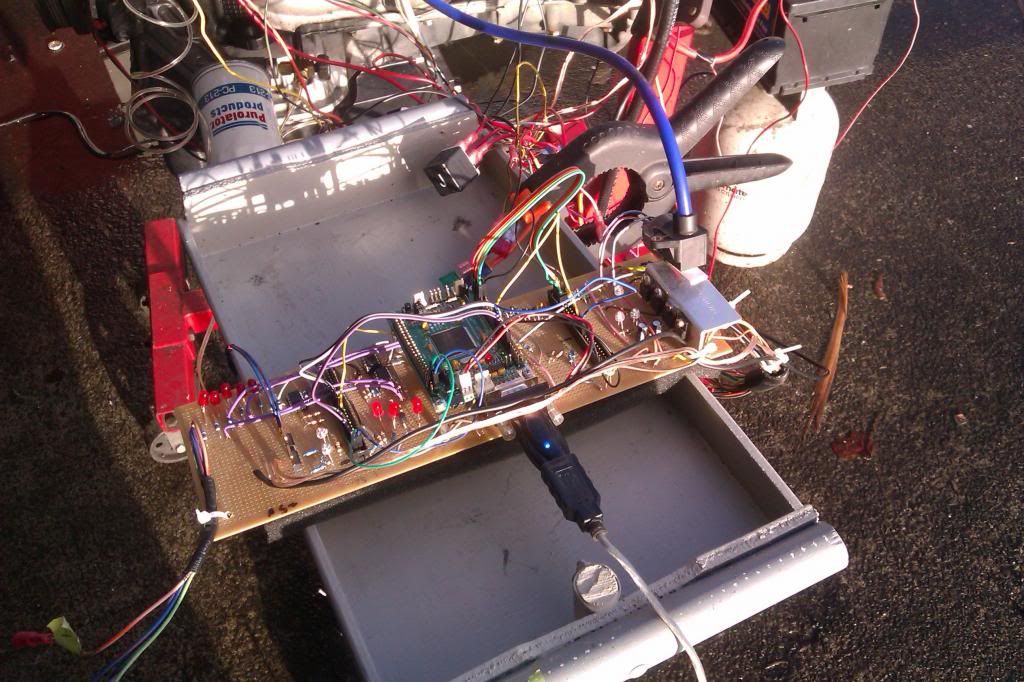 some may recognise this item from such events as the "slater" citroen GS turbo and the "Volverc" Volvo T5 on an engine stand.
another picture, with the total loss cooling system more apparent and the spartan exhaust system more obvious.:
Fred is there in that back ground twitting away, or fezbooking, or something like that.
Video footage should follow within a day or so with the total loss cooling system and the spartan exhaust system in action.
not to mention of course the ECU functioning. and the 7500rpm rev limiter functioning also.
it is in need of more tuning but at this stage the tune is perfect for its present bodyshell, or complete lack thereof.
I'd like to dedicate this engine number 32 to my pet goldfish, Carl Sagan.
freeEMS über alles
Hail Fred.
edit:ed to conform to template+typo's