Vitasik wrote:
Thank you Fred for some directions to start with.
NP
Quote:
Thing I have noticed that 95% of the things documented here are by you Fred. Respect mate!!!
Thanks :-)
Quote:
Now surprise, surprise - its semi-sequential anyway
Crank only = semi seq.
Quote:
this engine has 2 revisions with only mechanical difference in inlet manifold design and apparently later one which is 210HP is fully sequential.
Inlet manifolds are good like that. Mine: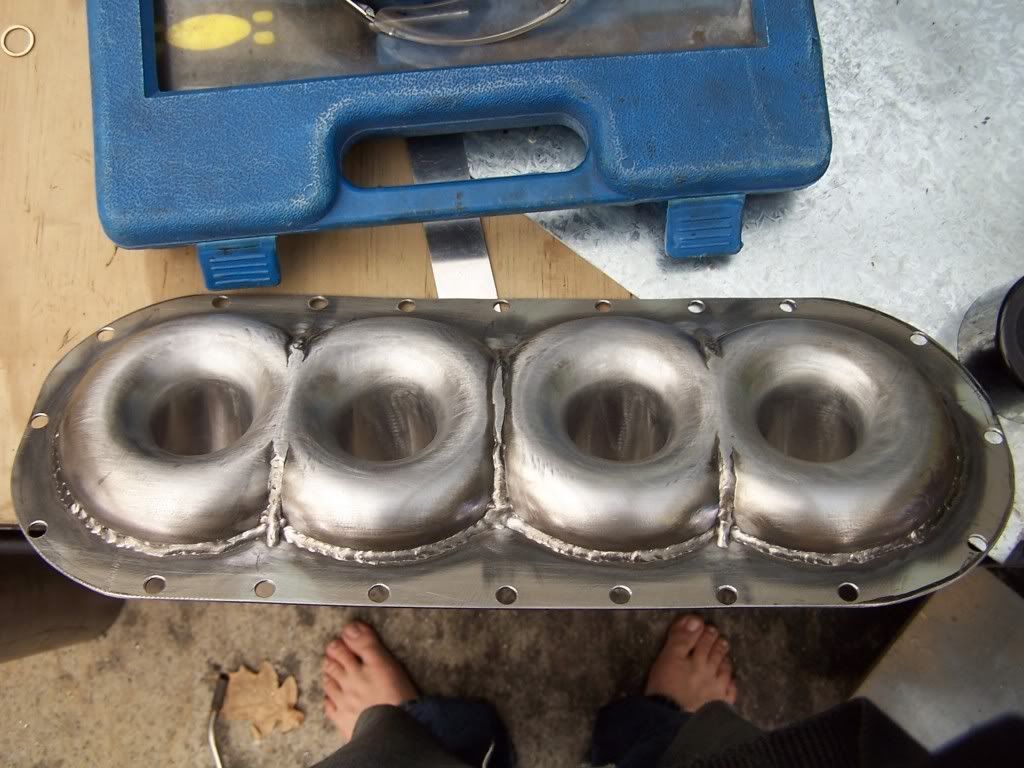 More:
viewtopic.php?f=4&t=16
Quote:
I will have to do with only 194HP ( its just original numbers - I bet it could go way above it with a good tune).
seq/semi will not affect power output by a measurable amount. Idle quality, emissions, economy and response are affected by a tiny amount. You'll like semi/wasted ;-)
Quote:
I dont mind as i am after torque and not as much power
Ben and I hate you :-) power = torque @ rpm. you're trying to describe the desired shape of your torque curve by using an absolute number. it doesn't work. If you want to accelerate, you want your best torque between shift points. Honda does that :-)
Quote:
It will end up with a very interesting and challenging project.
Yes.
Quote:
Tomorrow will take a look at sensors and see if I can do with factory fitted ones.
99.99% yes.
Quote:
First thing that begins to bug me is ignition timing. If I understand correctly i need to have camshaft PS as well as Crankshaft PS.
No. Only for cop/seq.
Quote:
Problem is that this engine never had one fitted and there are no easy means to retrofit one as this engine was originally designed to use wasted spark type ignition and doesn't have any openings at the back of the head even to lock camshafts during timing belt change.
Wasted spark is good. Roll with it.
Quote:
is there any easy way to identify what kind of wheel it uses originally for crankshaft PS? or do I have to get inside the sump ( actually it might be on the flywheel - will confirm tomorrow) .
pulley or flywheel, sometimes behind cam belt.
Quote:
Now regarding Boards - I do know RavAge is well explained here and would probably be better option for me, but I am not a big fan of the modular things that look like they were made in a hurry (no offense). Even when experimenting i am usually etching boards at home. If I was to use RavAge i would probably make my own board. All of that is too much hassle as I am not that good and would take me a considerable amount of time to do it properly.
Makes no sense.
Quote:
I know that Puma was a quite successful for a MK1 design, but had its problems.
Is this a joke? 4/36? success rate. 75%-95% of board needs mods.
Quote:
That is why i believe that Jaguar board sound nice to me.
Requires hacking to do what you need.
Quote:
That is just my thinking if anyone has any arguments for or against my train of thought - I will be glad to hear you out and take it into account.
Lots, but wrist sore.
_________________
DIYEFI.org
- where Open Source means Open Source, and Free means Freedom
FreeEMS.org
- the open source engine management system
FreeEMS dev diary
and
its comments thread
and
my turbo truck!
n00bs
, do
NOT
PM or email tech questions! Use the forum!
The ever growing list of FreeEMS success stories!