Why listen to me when you can read this page :
http://www.apracing.com/info/info.asp?s ... istics_105
I was daily driving the Mintex M1166 pads for a long time as was my girl friend. They are awesome pads. It is good to know that some other pads are even more awesome :-) They were only noisy when cold or when driven softly for too long. When hot they were quiet and lovely.
Note : No toy EBC pads listed!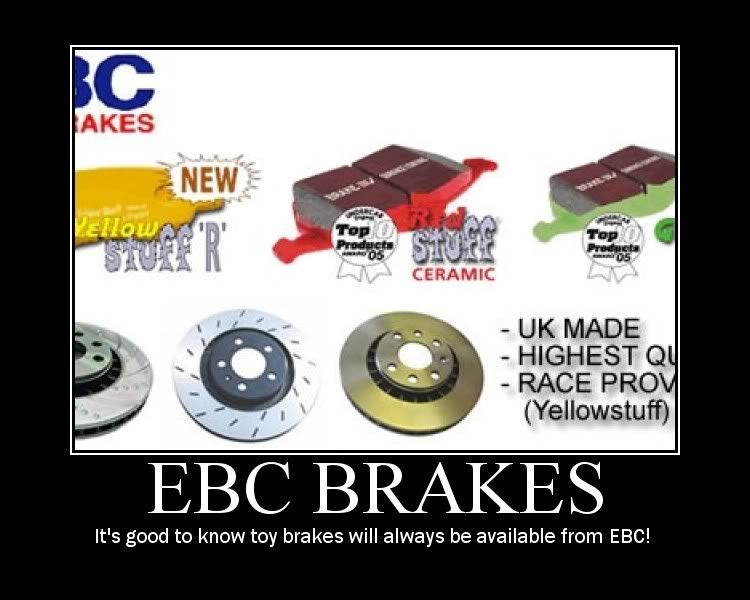 I don't know why I hate EBC products so much. Maybe it's the poor service and advice I got at the Auckland distributor? Perhaps it's the mediocre performance? Either way, you'll never find them rubbing on my rotors!
The rest of their technical sections were excellent too, but there is no point linking them here. I'll cache the information in that table in case some of them cease to be current in the future. eg Mintex M1144,M1155,M1177 are not listed there for some reason (M1177 is mentioned somewhere else in their tech though) Perhaps they are being faded out.
APs policy : "AP Racing policy is to offer a range of the best friction materials currently available from whatever source."
Nice! Now that I can respect.
Fred.
_________________
DIYEFI.org
- where Open Source means Open Source, and Free means Freedom
FreeEMS.org
- the open source engine management system
FreeEMS dev diary
and
its comments thread
and
my turbo truck!
n00bs
, do
NOT
PM or email tech questions! Use the forum!
The ever growing list of FreeEMS success stories!