It's raining and a rather dreary day today, so I thought I'd make my vast (lol, yeah right) knowledge of tyres available for the public and invite you to share your thoughts on tyres you have used over the years.
For each one, we need to know it's intended use, how you used it, and what you thought of it, and why. Additionally, if there are any you liked the look of but haven't tried, post them up, and perhaps someone else will have used them and can let you know what they think.
Glossary :
UHP = Ultra High Performance
HP = High Performance
Road "HP" :
Hankook K102 :
Sticky in the wet when brand new, but became very ordinary/poor with age (bare in mind I'm a harsh critic). They had a very soft sidewall which I found annoying on the rear end, however if both ends are equally soft and the vehicle is balanced it is less of an issue. Wouldn't get them again.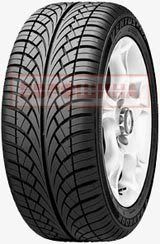 Road "UHP" :
Toyo T1S and updated T1R :
Very good in the wet, esp when new, but even when well used and old. In the dry very good until you really put some pressure on them (track day pace) at which point the narrow tread blocks and softish compound let them down and they overheat and wear extremely quickly. Will definitely use them again for winter (NZ winter = wet, not icey) but will use something else during summer and for track days. They are OK in the dry and at a track day on a lighter car of around the 1000kg mark or so but not a 1200kg plus car. The sidewalls are soft, but not as soft as the K102... usable for high speed driving if the car is decent and the driver not devoid of talent. Sizes were 205/50R15 for both types on the 1000kg car, and 225/50/R15 on the 1200 and 1300+ kg cars. Will get them again.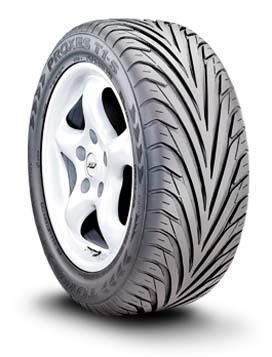 Goodyear GSD2 and updated GSD3 Eagle F1 :
I personally haven't used these, but my good friends have and they perform close to as good as the T1R and T1S in the wet, and are better in the dry/on a track from being slightly harder with a different pattern. They have stiffer sidewalls than the Toyos so feel better at turn in. It would be tough to choose between these and the Toyos if the Toyos weren't about 2/3 the price for most models. That makes the Toyo a clear choice in my mind as performance is pretty much the same for both families of tyre.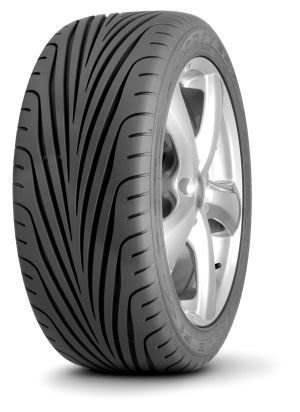 Semi Slicks (DOT approved road legal) :
Toyo R888 and Dunlop D01J :
I had these on my skyline daily and at track days for a full summer and were greatly impressed with both of them, BUT, ONLY when warmed up. When stone cold, even in the dry they didn't stick much at all. In the wet on the street it is near impossible to keep enough heat in them and they become pretty slippery for being too cold. On the track though, if you can keep heat in them, they continue to work very well (surprised me) in the wet. Gotta keep the heat in them though. Sidewalls are much MUCH stiffer than any road tyre. What this means is that if you put them on the front with street tyres on the back, the car will feel dangerous and like it's sliding around. On the back you just get the feeling that the front is floating, but it's benign. On both ends the car feels totally settled and confidence inspiring. In the higher profiles 50+ they are steel reinforced in the sidewalls. Would buy either again, except that the Dunlop is 50% more than the Toyo and has very similar performance. I'll get the Toyo again for sure. Great summer/track day tyre.
Looked good, haven't tried :
Toyo R1R :
Purported to be a half way point between the R888 and T1R, IE, good in the wet/cold and good in the dry/hot. Time and experience will tell if I can use one tyre (these) all year round or not. I have my doubts that they will be as good in either area, but I'm holding out high hopes!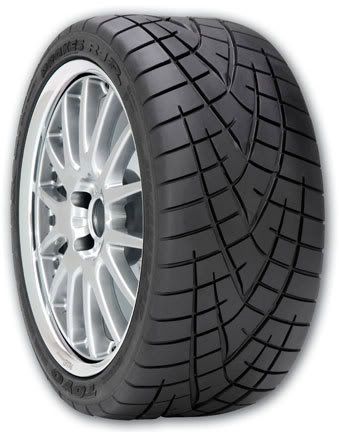 Advan A048 and A032r :
I thought they looked good, anyone tried them?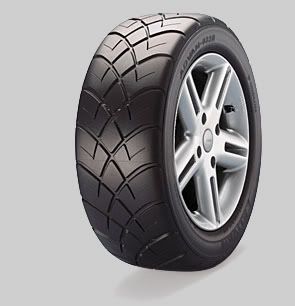 I should add that I get around 10kkm/6k miles from a tyre most of the time. I get about 5kkm/3kmiles from front brake pads, and 20kkm/12k miles from front rotors. My partner used the same tyres as me on her car and put around 60kkm/40k miles on them and they are still on the car now (though need replacing). So, these opinions are for a serious/hard user, not a soft red light revving street drag racing cruising gay bar loitering type high mileage driver. I also ran race brake pads on the street as I needed them, not wanted. Just thought I'd better put it in perspective for you.
Fred.